Yes. I love chairs. And a reclining chair is just the best thing to sit in if you're reading a good book and wouldn't mind taking a little nap too....
Now, I'm not a fan of those chunky microsuede upholstered recliners that have a cavernous underbelly full of dust, old tv guides and lost remote controls.
I'm thinking more the danish style 1960's-ish carved timber armrests, retro printed fabric and chair legs. I like to be able to pick up my chair on my own and move it to a sunny position if I want to...
something like this is my idea of heaven
and that's why when I found this little beauty I knew I had to bring her back to life and lazy luxury.
my chair - to - be
Ok, so there are no cushions (they were too moth eaten to be called 'cushions' anyway) the foam inserts were in OK condition under the disintegrating covers but I'd like to start with fresh new foam & new covers to park my derrière on.

Researching the age of my chair, I came across quite a few similar examples on Ebay with rather impressive price tags. Over $1000. Really?
BEFORE the destruction
I could not find a complete photo of my chair before I starting pulling it apart but this one (found on Ebay) comes pretty close... even the fabric of the cushions is spot on!
The first step was giving it all a clean. The springs are still in great condition so there's no work to do on them. Next is sanding back the old varnish and applying a wonderful natural furniture oil to seal the timber and give it a beautiful matte finish. My grandad stepped in to do this as he has the skills (and time) to do a beautiful job.
Next step, the foam cushions and fabric covers.
When re-covered, a daggy brown relic from the 60's can be transformed into something very sleek and contemporary. I just love danish style furniture. Smooth timber, beautiful fabrics.
For upholstered inspiration I've been searching through vintage homewares on Etsy.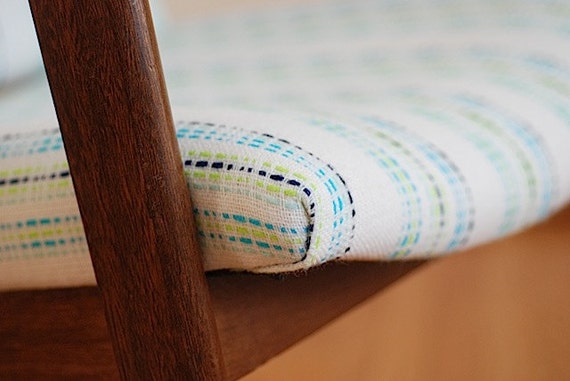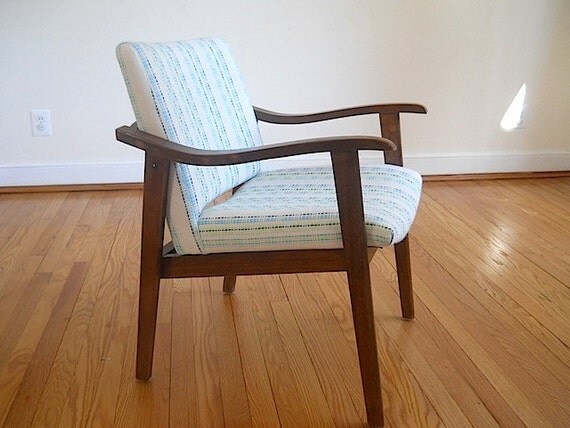 I wish I had money.
The fabric
I chose to cover my chair in a design that was personal to me. I drew this stylised owl feather design and made it into a repeat fabric pattern in an indigo blue:
Now that the fabric has arrived I need to go in search of new foam, cut to size and shaped a little for the back cushion and the seat.
I'll be back soon with more pics & I hope, a finished chair!