Over a year ago I announced that my artwork 'Forest Spirit' would be on the cover of the Charles de Lint fantasy novel 'Eyes Like Leaves' due to be published in Feb 2012. Well its February! And here is the book itself!
Would you like to win a copy? The author Charles de Lint and his partner MaryAnn Harris along with Tachyon Publications are running a GIVEAWAY on Facebook. Visit 'Eyes Like Leaves' on FB and become a member of the group to go in the draw to win a copy of the book and a signed CD of music by Charles and MaryAnn!
So, who is behind the photo? Well, as my little brother pointed out on facebook, he took the photo of me holding the book...and I edited it to hide my face because I looked like a startled parrot. But that's not important...
Quite a few people have been wondering about the mask and it's about time it got a mention. The leather mask worn by yours truly was made by the talented Brenda of Falcon Moon Studio (Windfalcon on Etsy). Perhaps you also recognize the mask worn in this artwork...
Web Background created for Meggem Styling, 2011 by Ginger Kelly Studio
The cover artwork, 'Forest Spirit' is one of my oldest digital mixed media artworks and a dear favorite.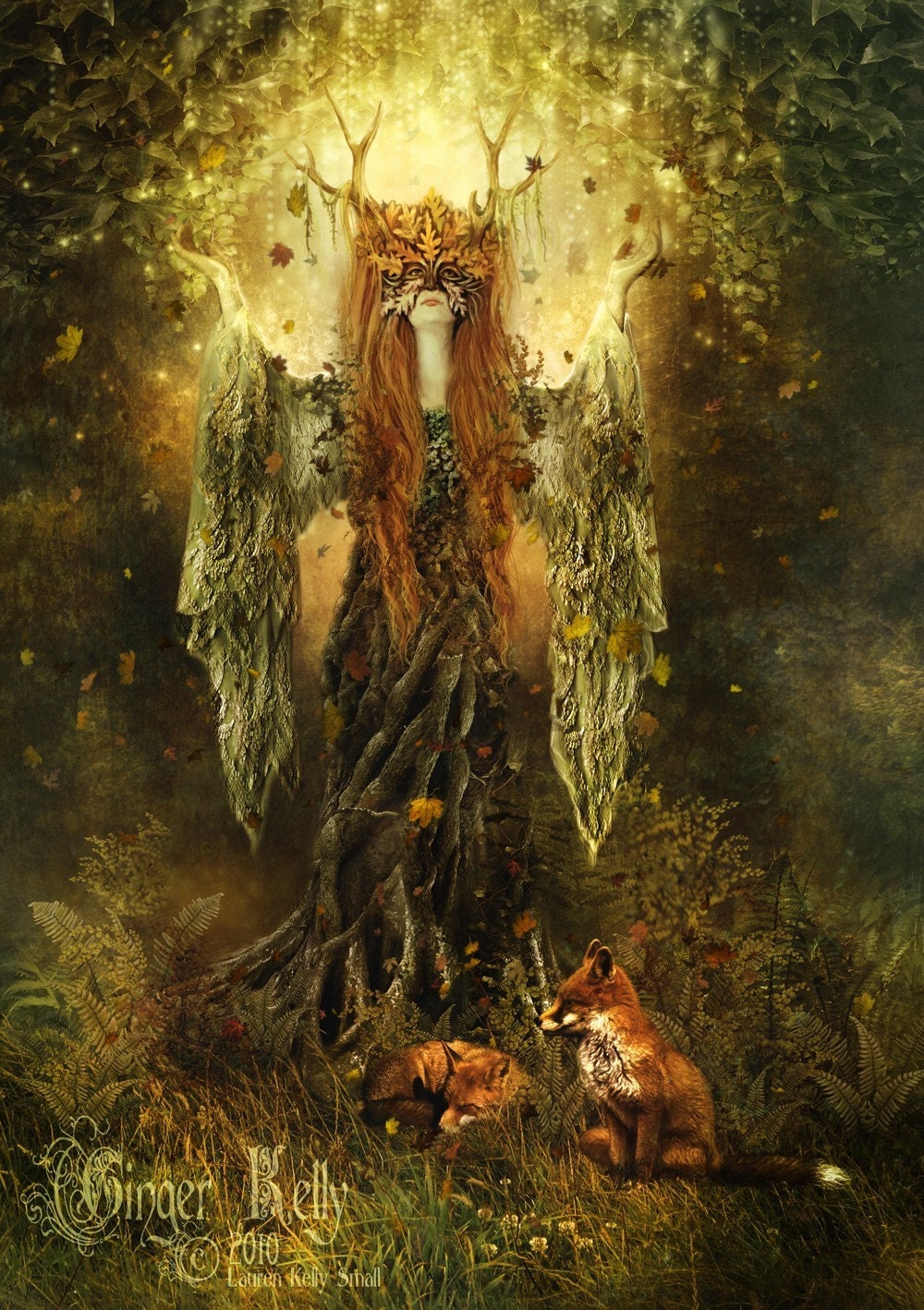 Originally 'finished' in 2009, it has, like most of my earlier work, evolved and grown like the forest it is named for. However, the original heart of the artwork remains the same. The beautiful model is Ida Mary Walker Larsen or Mizzdraconia & mizzd-stock as she is known on deviantArt.
Thank you Ida for the endless inspiration you have given to my artwork over the years... you are a treasure!
And I want to take this opportunity to thank every one of you who supports my work; whether you are following this blog, or watching me on deviantArt or if you Like me on Facebook, every little comment, favorite, click and share of my artwork means so much to me and helps me on the path to becoming the artist I dream of.
At some point in the next few days I will announce a giveaway of my own... it just needs a name... hmmm
xxx